Award for outstanding quality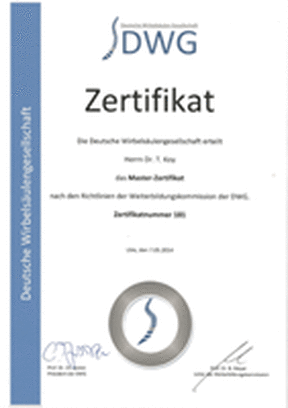 Award for outstanding quality: Master certificate for Dr. Timmo Koy
The German Spine Society awards Dr. med. Timmo Koy the Master certificate. This means that the spine specialist belongs to an elite of around 200 physicians throughout Germany who received this award for their experience and quality. Every medical treatment, but especially every operation, is connected with a huge advance of trust of the patient for the doctor. That is why the umbrella organisation of all spinal surgeons, the German Spine Society (DWG), has set itself the task of measuring the qualification of a physician against independent quality and further training Standards.
Dr. Timmo Koy, Head of the Spine Center at KLINIK am RING, Cologne, was awarded the DWG Master Certificate on May 7, 2014. The certificate certifies that the wearer has participated in regular training courses and has exceptional operational know-how. Dr. Timmo Koy thus has extensive experience with complex spinal interventions and masters the performance of the most diverse surgical methods and access routes.
In addition to the excellent infrastructure and the availability of the most modern medical equipment, the Spine Center of the KLINIK am RING has earned itself the reputation of not operating prematurely but first of all exploiting all promising conservative treatment options. However, if surgery is unavoidable, the patient can rely on a highly experienced surgeon who masters the entire spectrum of spinal surgery. The Master certificate of the German Spine Society is proof of this, as are the many positive patient evaluations.