External Beam Radiation (IMRT/IGRT)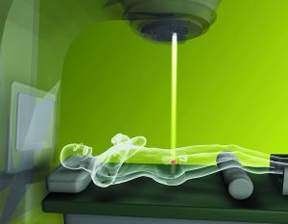 External irradiation is used in all stages of prostate cancer.
While external radiotherapy has long been regarded as a poorer alternative to prostate removal, very high irradiation doses are now possible thanks to the latest technology, while at the same time maximum protection of the adjacent organs is possible, as the burden on healthy tissue can be calculated precisely before the start of treatment. Sole external radiation therapy is very time-consuming, since the required total dose is administered in approx. 40-45 individual radiotherapy sessions over a period of 9 weeks per day.


As in brachytherapy, the procedure of external beam therapy always starts with a computer-based irradiation planning. Each patient receives individually shaped (conformal) irradiation fields. The result of the planning is drawn onto the patient's skin using special markings on a therapy simulator. In this way, the accuracy of daily irradiation is always guaranteed. 5 days a week are always irradiated. The side effects are moderate: Compared to brachytherapy, local irritation of the rectum occurs more often, but usually subsides after the treatment is completed.
Further information on state-of-the-art techniques (IMRT/IGRT) can be found on the pages of the Department of Radiotherapy of the West German Prostate Center.