Cologne experts at the "Prostate Brachytherapy Symposium" in New York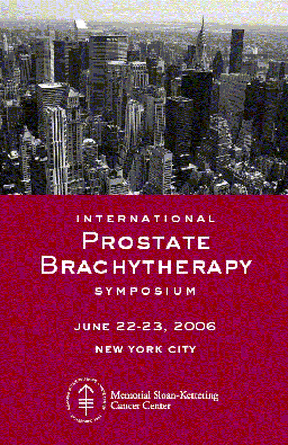 MEETING OF TOP RESEARCHERS
Cologne experts at the "Prostate Brachytherapy Symposium" in New York
At the invitation of the Memorial Sloan-Kettering Cancer Center, the senior physicians of the West German Prostate Center participated in a scientific symposium on brachytherapy for prostate cancer in New York. The "International Prostate Brachytherapy Symposium" is one of the most renowned congresses in the field of brachytherapy research. Together with leading colleagues from Europe and the USA, the experts from Cologne discussed current progress and improved technologies in seed implantation and afterloading therapy from 22 to 23 June 2006.
We are on the right track,"concludes Dr. Gregor Spira, senior physician and radiotherapist at the West German Prostate Center. The data from the German treatment centre confirm the therapeutic successes from the USA, which were presented at the symposium.
While in Germany, more than 60 percent of all patients with prostate cancer are still undergoing surgical treatment despite high impotence and incontinence rates, the modern form of radiation therapy is increasingly being used in the USA as a gentle alternative to radical prostate surgery and is currently the most common form of treatment for prostate cancer.
The importance of the online planning system for the quality of the radiotherapeutic treatment of both methods was also discussed. Conclusion of the international experts: In addition to the experience of the treatment team, an irradiation plan drawn up during the procedure is an essential quality criterion for treatment. In the West German Prostate Center, the latest version of the Variseed planning system for seed therapy and the Swift planning system for afterloading treatment are available, both of which enable real-time planning.
Always up to date
The team of the West German Prostate Center strives for continuous further training and maintains close contacts with treatment centers and specialists in Europe and the USA. In New York, the doctors also met "old" colleagues with whom they are already engaged in a lively scientific exchange - including Professor Louis Potter of the New York Prostate Institute. In addition, numerous new contacts were established. It is only through intensive exchange of information, according to the specialists in Cologne, that it is possible to continuously adapt the treatment of our patients to the current state of research and to improve the treatment results even further.